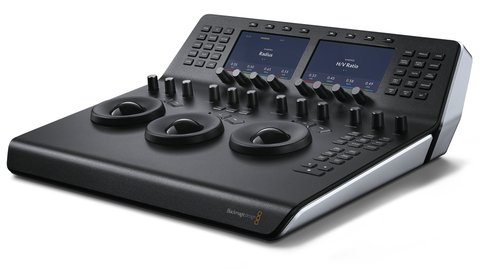 The Resolve Mini Panel is a new compact panel from BlackMagic Design that is designed for use with DaVinci Resolve. You get three professional trackballs along with a variety of buttons for switching tools, adding color correctors and navigating your node tree. It also features two color LCD screens that display menus, controls and parameter settings for the selected tool, along with direct access buttons that let you go into to the menus for specific DaVinci features. New to this Panel is the ability to connect via Ethernet or USB-C, for the first time you will not need to include the added cost and complexity of USB extenders when the workstation is not local to the room. The DaVinci Resolve Mini Panel is ideal for editors and colorists that need to regularly switch between editing and color grading, or for freelance colorists that need to take their panel with them when moving between facilities.
---
Lift, Gamma, Gain and Offset
Trackballs provide RGB balance adjustments and gain for lift, gamma and gain, each with a master level control. You also have a RGB offset and master gain to adjust the brightness of the entire image.
Shadows, Tones and Highlights
With a single key you can switch your trackballs to grading shadows, mid tones and highlights using log controls with high and low range, contrast and master pivot.
Individual Camera RAW Controls
You get direct GPU de-bayer controls on the panel for exposure, contrast, lift, gain, color temperature, tint, highlight and lowlight recovery, saturation, color boost and mid tone detail. Adjusting camera RAW files has never been easier or faster.
---
High Resolution LCD Displays
5 super bright full color displays show menus and indicators for a massive 32 soft knobs and 30 soft keys. Menus update automatically to show the quickest and most direct keys to every feature so you never waste time searching through long menus.
Illuminated Keys
Custom backlit keys feature RGB color and intensity to suit your mood and taste! No other control surface looks as amazing in a darkened room!
Soft Knobs
With 30 customizable soft knobs on the DaVinci Resolve Advanced Panel and 8 on the Mini panel, you get super high resolution, flexible parameter adjustments that you can reset back to the default with a simple push.
---